Mobile Farmers Market To Serve Those In Need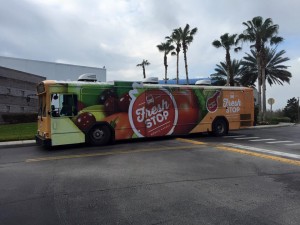 RDV Sportsplex supports access to fresh produce in food desert communities by hosting The Fresh Stop Bus, a mobile farmer's market, in the RDV Sportsplex Parking Lot, Monday mornings 9 a.m. – noon. The Fresh Stop Bus is a local non-profit reliant on grants and charitable funding in order to visit a dozen neighborhoods each month providing access to fresh fruits and vegetables. With more than one million visitors annually, RDV Sportsplex is helping to generate much needed revenue to help support this access to fresh produce in local communities, bringing hope and better nutrition to some of the areas hardest hit by generational poverty.
In Central Florida more than 90,000 of our neighbors live in food deserts, areas without easy access to fresh, nutritional foods. Limited food choices often result in poor nutrition as families rely on fast food or processed foods sold by neighborhood convenience stores. Families are forced to substitute foods usually high in fat, sugar and salt, which in turn leads to increased rates for diabetes, higher blood pressure and other diet related diseases.
By providing expanded food options to targeted communities, Fresh Stop will drive positive health outcomes and create a road map for generational change for families hardest hit by diabetes and heart disease.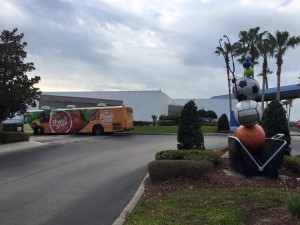 As envisioned by , the Fresh Stop bus is a mobile farmers market created to serve these in-need neighborhoods. The program offers fresh fruits and vegetables in community centered locations and at budget-friendly prices. Hebni Nutrition Consultants is a Central Florida-based, not-for-profit agency formed in 1995 to educate populations who are at risk for obesity, heart disease, diabetes and hypertension.
The mission of RDV Sportsplex is to enhance the lives of individuals and families in our communities through exercise, sports and recreation, by providing world-class service, facilities and programs all within an environment of active fun.
For more information, please call 407-916-2442 or visit RDVSportsplex.com.




by







by