New Solar Co-op Hopes To Shine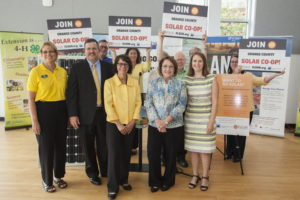 Orange County homeowners looking to add solar power to their homes have an opportunity to do so at a discount through a new solar co-op program. The initiative is spearheaded by Orange County Government, the League of Women Voters of Florida and Florida Solar United Neighborhoods (FL SUN), which is a local nonprofit working to organize solar co-ops across the state.
Solar co-ops provide bulk discounts – up to 20 percent – for a group of homeowners who are interested in purchasing solar panels. As part of a solar co-op, citizens benefit from the educational process and each participant signs his or her own contract with the installer, and everyone gets the discount. All homeowners who reside in Orange County are eligible to participate in the co-op.
Orange County Mayor Teresa Jacobs officially signed up for the co-op and she's hoping other residents will consider joining as well.  "This technology is an excellent long-term investment and we're delighted to invite our residents to participate. The Orange County Solar Co-op is a powerful way to leverage our collective buying power and go solar together," said Mayor Jacobs. "Florida's outlook is bright for solar and Orange County's Co-op can help lead the way."
Joining the co-op does not obligate members to purchase panels. After the co-op receives bids from solar installers in the area, members will select one or two companies to perform the installations at a group discount. The exact price of a PV (photovoltaic) system is dependent on homeowners' preference in system size and their home's energy consumption. Additionally, there is a federal tax credit of 30 percent towards installation costs. Homeowners have the option to install the size PV system that fits their budget.
In addition to promoting the solar co-op to residents, Orange County is encouraging its more than 7,500 employees to consider signing up. East Orlando resident Jon Weiss, director of Orange County's Community, Environmental and Development Services department, is one employee who already participated in a solar co-op and had solar installed in May of this year.
"The co-op really helped us understand the solar project costs and benefits. I realized the questions I had were the same ones that my neighbors had, and I had confidence in the information provided by the contractor selected by the co-op." said Weiss. "We sized the system to match our budget, and are very pleased with the savings on our power bill. Our up-front investment should be recouped within the next five to six years."
Orange County has a goal to obtain 500 participants in the co-op program with 30 percent of the residents opting to Go SOLAR. The co-op deadline to sign up is December 2016. Orange County is sponsoring Community Power Network and FL SUN, 501(c)(3) non-profits, to provide technical assistance to neighborhood solar co-ops at no charge to participants.






by





by