A New Take On An Old Story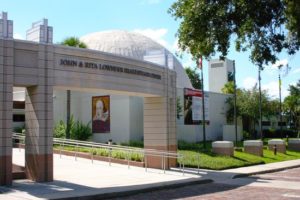 By Barbara Solomon
JEKYLL & MR. HYDE
WRITTEN BY JEFFREY HATCHER
DIRECTED BY CYNTHIA WHITE
STARRING TIM WILLIAMS AND STEVEN LANE
How can you go wrong when you have two of the best actors in Orlando on the stage?  The characters are monstrous but the show is superb.  Part of its effectiveness lies in a twist on the usual story—there are four, yes four, Mr. Hydes; he has multiple personalities, all of which are evil.  For those of you unfamiliar with this classic, Dr. Jekyll (Tim Williams) is experimenting in his laboratory on mind transformation, the results of which are Hyde, evil incarnate.  By the end of the story Jekyll is unable to control what he has brought up from his subconscious.
Tim Williams is amazing as Jekyll.  Every time he took the stage he had me mesmerized.  I can state without reservation he is the best actor in Orlando now that Russ and Dennis have moved on to Hollywood.  A close second is Steven Lane, playing one of the Mr. Hydes.  Steven usually plays the good guy, so I was impressed by how well he handled the role of the bad guy.  He was downright scary!  The spooky set, music, and costumes added to the evil ambiance.
The question remains "Is there a soul?"  And if so, how does the normal person hide his rage without it taking over?  The answer, according to the play, is that no one is wholly good or wholly bad, but most of the time we wear the white hat.
Playing through November 13 at Orlando Shakes in Loch Haven Park.  For more information call 407-447-1700 or visit orlandoshakes.org.
Barb's Best Bets for November:  A Marvelous Party at The Winter Park Playhouse, Pygmalion at Mad Cow, and Cloud 9 at UCF.






by





by