Night On Broadway Another Success
For the past 19 years, Night On Broadway has become the highlight of the artistic year for Winter Park High School, and in their 20th run last month, the tradition continued.  This year, over 250 chorus students with the assistance of Broadway and industry professionals presented "The American Songbook," highlighting popular and jazz standards from the early 20th century as well as a tour through the decades of American jukebox musicals.
Night On Broadway is a professionally-produced musical event performed annually by the entire WPHS Choral Department. Students engage in one month of intense rehearsals in singing, acting, and dancing under the direction of choral directors Matthew Swope and Hollie Pratt as well as Broadway veteran and artist-in-residence, Sue Delano.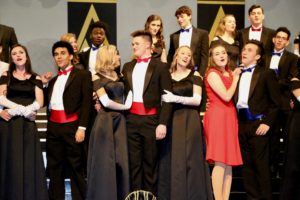 Proceeds benefit the Tyler Rush Memorial Scholarship Fund, which has awarded over $141,000 to graduating high school chorus students. NIGHT ON BROADWAY and the Fund were created in memory of former chorus student Tyler Rush (1983-1998) whose life was cut short by a tragic car accident. Each year at the end of the show, the cast honors Tyler's memory with their exclusive performance of "There Is Only One You," an original song by Broadway composer Jason Howland and Dani Davis.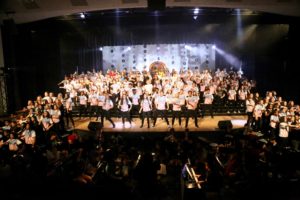 "Night On Broadway" is a creative and collaborative effort about the human spirit. Each year, the chorus family honors Tyler Rush's memory as we embark on our own educational, musical, and personal journeys of self-discovery. This year's show allows students and audience members alike to explore and celebrate our American stage heritage. The passion of our students and the dedication of our parent volunteers make this production truly special. Also, our students have the unique opportunity to work with Broadway and industry professionals as well as local businesses to make this show a first-rate production," said Mr. Swope, director of Choral Activities at WPHS.






by





by