OCPS To Induct Its First Hall Of Fame Class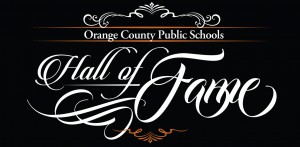 The Hall of Fame is a new tradition created by the Orange County Public School Board to honor people who have made a name for themselves and the school district throughout the 145 years since the first school board met in December 1869. The Hall will feature inductees in six categories: distinguished educator, community champion, and alumni in fields of athletics, arts, humanitarian work and distinguished professional careers.
From a lengthy and remarkable list of nominees, the Hall of Fame Selection Committee chose its first members to be inducted May 15, 2015, at the Rosen Shingle Creek Resort.  The board of the Foundation for Orange County Public Schools has enthusiastically signed on to be the "founding sponsor" of the OCPS Hall of Fame.
Meet the 2015 Inductees:
Class of 1948, John Young graduated from Orlando High School. He is a retired American astronaut, naval officer and aviator, test pilot and aeronautical engineer, who became the ninth person to walk on the moon as commander of the Apollo 16 mission in 1972.
Class of 1966, Dick Batchelor graduated from Evans High School. He is a former member of the Florida House of Representatives. He is president of Dick Batchelor Management Group, Inc., specializing in business development, strategic governmental affairs and public policy issues. He has championed two Change for Kids campaigns to support OCPS school construction.
Class of 1992, Johnny Damon graduated from Dr. Phillips High School. He has been a professional baseball outfielder who began playing in Major League Baseball (MLB) in 1995 and has two World Series rings. 
Class of 2000, Erika Dunlap graduated from Boone High School and is a graduate of the University of Central Florida. Dunlap was named Miss Florida in 2003 and subsequently crowned Miss America in 2004.
In the Distinguished educator category, James "Chief" Wilson taught in OCPS for 40 years at Jones and Evans high schools. With the exception of one semester at Evans High School, Mr. Wilson was a music teacher at Jones High School from 1950 until his retirement in 1990. 
In the Community Champion category, philanthropist Harris Rosen has been a dedicated OCPS business partner in education for over 20 years. He helped transform a high-crime neighborhood of Tangelo Park into a thriving, self-sufficient community. 
The long history of Orange County Public Schools is fascinating, and will be celebrated May 15, 2015, at the Rosen Shingle Creek Resort where inductees will be invited as the district honors its 145th anniversary.
For more information about sponsorship and tickets to the induction ceremony and dinner are available at www.HallofFame.ocps.net




by







by