Orlando Magic's Community Service Impact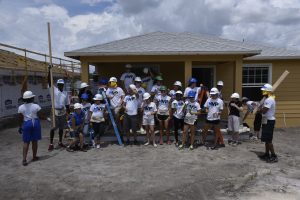 The Magic Volunteer Program (MVP) contributed 6,945 hours of community service for the 2015-16 Magic season, surpassing the goal of 6,000 hours as an organization for the 10th straight year. More than 220 employees (full time, part time, interns, players, and coaches) participated in numerous events throughout the year with a large focus on the Magic's three areas of interest—education, hunger, and health/wellness. The events included full staff food packing and distribution event with UnitedHealthcare benefiting Second Harvest Food Bank, Magic Fit Fun Day at Rock Lake Elementary School, a Magic FIT kid chef celebrity showdown, Thanksgiving at the Coalition for the Homeless, Black Tie and Tennies Gala benefiting the Orlando Magic Youth Foundation (OMYF), OMYF Open charity golf tournament, Magic and Pepsi youth holiday shopping spree, Hoops for Hunger Love Pantry, and Habitat for Humanity, among others. This past season, the Magic had 32 staff members serve on a total of 56 different local boards including Habitat for Humanity, Second Harvest Food Bank of Central Florida and United Arts of Central Florida, to name a few.
The MVP was developed to encourage Orlando Magic employees to get out and get involved in the community.  The program began in July of 2006 with the goal of performing 2,000 hours of community service during the 2006-07 season; 3,800+ hours were tracked that first year.  Since program inception, 59,945 hours in the Central Florida community have been tracked.
The MVP is unique in that it allows employees to volunteer during work hours. As an added incentive, employees who reach a certain level of volunteer hours in the community will be rewarded and receive a monetary donation to a charity of their choice. There is also an annual award given to the Magic staff member who contributes the most hours in the community.
In addition, through the MVP, employees are assisted with board placement in the community, opportunities to volunteer at all Magic-sponsored community events, OMYF sponsored projects and other nonprofit organizations while matching employees in a youth mentoring program.






by





by