Orlando Youth Alliance Awards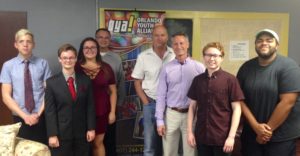 The Orlando Youth Alliance (OYA) awarded nearly $7000 in five college scholarships to area youth. Recipients of the scholarships were Emily Mound (Seminole State College), Samantha Fuentes (University of Central Florida), Allen Barrett (University of Central Florida), London Nunn (Lake Sumter State College) and Hector Constanzo (University of West Florida). The OYA Scholarship Program is grateful to the generosity of Bill Neighbors and Tim Warzecha and the Walt Disney Foundation for their gifts to help fund a major portion of the program. OYA has been providing financial assistant to its members for over eight years.
The Orlando Youth Alliance is partnering with the Gay Lesbian Straight Education Network (GLSEN) to offer micro-grants to gay straight alliances (GSAs) in middle and high schools in a six county area. GSAs can apply for up to $500 to sponsor a dance, purchase t-shirts, conduct a climate survey at their school, etc. GSA leaders and faculty interested in applying can find the one-page grant application at www.orlandoyouthalliance.org.
The Orlando Youth Alliance is the community gay straight alliance. Founded in 1990, they hold weekly support groups for lesbian, gay, bisexual, transgender and questioning youth ages 13-24 in Orlando, Lakeland, and Casselberry. OYA's mission is to create a safe space for LGBTQ youth. They will soon be holding a weekly group in Kissimmee. Individuals wishing to volunteers or to donate can contact the organization at info@orlandoyouthalliance.org or via their website at www.orlandoyouthalliance.org.
*Photo courtesy of Michael Slaymaker




by







by