Preparing Your Home For The Market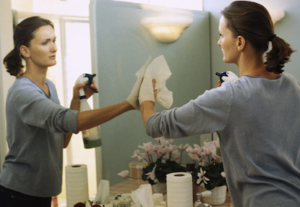 Real Estate In The Parks – By Scott & Sam Hillman
Across Central Florida, there's high demand for houses and buyers are selective about what they're purchasing for their money. Each and every one is looking for the best, so providing a "show ready" home could more quickly sell your property. A first impression is everything and below are tips to get your home ready to pique potential buyer interest:
Curb Appeal – Upon arrival, a potential buyer's first impression of a home is its curb appeal. Make sure the lawn is mowed, weeds are removed from the flowerbeds, fresh flowers are planted, bushes pruned, and driveway and sidewalk are pressure washed. Even a fresh coat of paint on the exterior could also help; and be sure to clean out the gutters.
Depersonalize and Declutter –A potential buyer will always look to imagine their belongings in your home. It's important to keep décor simple and depersonalize every nook and cranny – remove family photos, knickknacks, extra furniture, and any other personal items. As your home is decluttered, rent a storage space for a few months to place valuables and other personal items. This way, these items will remain protected – yet out of the way – as your home is being shown. This will also allow you to keep your closets tidy to show off ample storage space.
Deep Clean – Freshen up the interior of your house by painting the walls throughout with a subtle color so potential buyers can also envision how they would paint the walls. Clean every area and surface so that it sparkles and shines, keeping your home looking and feeling clean upon entering. Also, make any minor repairs such as fix a leaky faucet, patch wall holes, replace worn bedspreads, etc.
If the carpets show some wear and tear, replace them with a low-end carpet. Most the time, any new owner will immediately replace the floors to their liking. This will also provide a clean, fresh smell upon entering your home.
Pet Care – Make sure to take your pets for a ride or relocate to a friend or family member to show your home in the best light. If a pet remains in the home, a potential buyer could think they smell a specific animal which could deter them from making an offer.
Potential buyers will analyze everything. Your realtor can make referrals to contractors who they've worked with and know will perform the best work at a realistic rate. After a couple of weeks, your house will be ready to show. Follow the above tips and it will help a potential buyer say, "I can see myself living here!"
Scott Hillman is president of Fannie Hillman + Associates, a 36-year-old Winter Park-based real estate company specializing in residential real estate sales. Sam Hillman is a Realtor and Market Analyst at Fannie Hillman + Associates. Together, they produce Hillman Homes, a customized quarterly publication showcasing local luxury listings, editorial features, and The Hillman Report, a semiannual look at residential real estate in Orange and Seminole counties. Read the latest issue on the company's website (fanniehillman.com) or by calling (407) 644-1234.




by







by