Protection And Service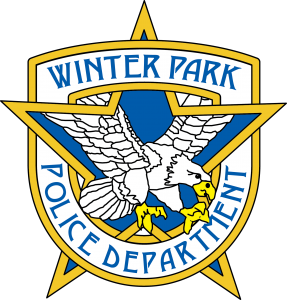 By MPO Jim Whitman, Winter Park Police Department
In an effort to take your mind off of the current COVID situation, I thought I would share with you some little known facts about one of our lesser known Winter Park heroes.  If you have spent any time in the south end of Central Park, you may have seen a beautiful fountain showcasing a Peacock.  Most people don't realize that the peacock is actually a rendering of a pet owned by our hero in question, Mr. Doan T. Geffulld. Mr. Geffulld was the son of Swedish immigrants who made their way to Winter Park in the early 1800's.  Doan's parents were of hearty stock and owned some land on the north side of the City (in the area of the City's Public Works compound) where they tried their hand at farming and raising cattle.  Doan on the other hand was more of an extrovert and felt he needed to pursue a career where he could be around people (much to his parent's dismay) and so once the City decided to form its own Police department, Doan applied to be the first assistant (later to be called a Police Officer) to the Town Marshall.
Although Doan was a large man (6'5" tall and approximately 235 pounds), he had rather poor eyesight and his hearing was not much better.  Because of these setbacks, the Marshall would not allow Doan to carry a firearm, so Doan was relegated to carrying a sack of rocks, which he tied to his waist.  Folks said that on a non-windy day, he could throw one of his rocks over a hundred yards with deadly accuracy.  The Marshall, realizing that Doan's physical prowess was quite extraordinary would often call upon him to deal with groups of men that would come into town, drink to excess and then start stirring up trouble.  It is said that once on the scene, Doan would take control of the situation, usually by just his presence.  Occasionally one of the trouble makers would eventually wind up in jail with a welt on the side of his head caused by a rock that might have haphazardly been "flipped" in his direction.
As I mentioned, Doan grew up on his parent's farm and on the farm, in addition to livestock, the family raised all types of fowl to include peacocks.  Doan took an exceptional liking to one of the peachicks that his family was raising and named it after his Uncle Paddy.  As Paddy the peachick grew, he would begin following Doan into the City when he went to work.  Soon everyone associated Paddy the peacock with Doan.  Eventually, Doan realized that he was being "slowed down" on his daily rounds as everyone wanted to see Paddy so Doan built a wagon and pulled Paddy around. That is how the name Paddy wagon became associated with Police Departments.
The fact that a fountain has been erected in our Central Park that showcases a pet of one of our unsung heroes and nothing recognizes Doan is a travesty.  Therefore, I have decided to rectify this error by collecting money to build a statute of Doan that will be placed beside Paddy's fountain.  If you are interested in helping right this wrong, please send money to:
Doan T. Geffulld (pronounced Don't get fooled) Statue fund
500 N. Virginia Ave
Winter Park, FL 32789
This has just been my way of reminding everyone of how easy it is to believe something someone tells you in the name of charity.  The Winter Park Police Department would like to take this opportunity to remind you to investigate any organization that is asking for a donation prior to sending them money.




by







by