Publisher's Message – January 2017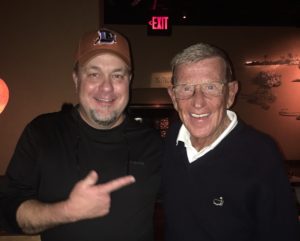 Over the course of my life, I've been fortunate to meet a long list of well-known and influential people. When I met Larry Bird I shook his hand but couldn't think of anything good to say except, "Nice to meet you Mr. Bird!"  Vince Carter once asked to join in a conversation with me and a friend prior to a Magic game.  I looked up and said, "By all means, yes." At some point he asked for finger nail clippers, and took care of business right there. I recall saying, "That's injury prevention at its finest, you certainly don't want to get a hang nail caught in the net."  I had the pleasure of being Grant Hill's event guide for a day, and helping to make sure that all the kids who wanted his autograph, got his autograph.  Had beers with Jim Belushi for an evening, and served as his wingman after one of his concerts.  Great conversation, and his Chicago accent made his sarcastic humor even better.
In 1994, Michael Jordan came to town playing for the Birmingham Barons vs. Orlando Cubs.  I had great seats behind home plate, and as my luck would have it, the person seated to my right was the lead singer for the Counting Crows, Adam Duritz.  He simply introduced himself, and I never made mention that I knew who he was until late in the game.  It was mostly baseball chat until he said he was trying to figure out how to get out of the dog house with his girlfriend.  I said, "You're the freaking lead singer of the Counting Crows, I'm sure you'll figure something out."
However, recently I had the pleasure to meet someone I truly idolize, and I owe it all to my flight being delayed three hours, and my wife suggesting we eat as soon as we landed.  I was simply happy to be back in Orlando, and it was dinner time.  So, as my luck would have it, we spot Lou Holtz and his wife.  I'm a huge fan of the Notre Dame Fighting Irish, but more importantly this man, as I believe he is one of the greatest motivational people of all time.  I shared this with him and he said, "Well you should seek better motivational people!"  I then said, "I'd save Jimmy Johnson for you coach!" He said, "I felt really bad about that Catholics vs Criminals thing, not all my players were Catholic!"  Like meeting many well-known people along the way, I'll never forget meeting Coach Holtz and his wonderful wife of 56 years.
As always, thank you for reading The Park Press, and I look forward to the great things to come.
Rick  




by







by