Rollins CATCH Healthy Habits Program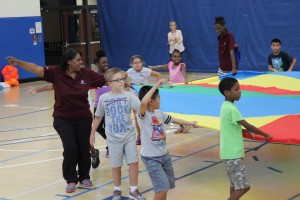 The Rollins College Center for Lifelong Learning (RCLL) CATCH Healthy Habits program received a grant of $71,686 from the Winter Park Health Foundation (WPHF) to support program operations through August 2017.  Funds will be used to continue training teams of older adult volunteers who teach children about healthy eating and physical activity in after-school and summer classes.
Initially supported by a two-year, $148,268 WPHF grant, CATCH Healthy Habits has trained 51 older adult volunteers who have provided 500 children ages 6-11 with a weekly nutrition lesson, a healthy snack, and 30 minutes of physical activity. The program has resulted in successfully improving youth and seniors' eating habits, increasing levels of participation in physical activities, reducing screen time, and fostering development of positive intergenerational relationships.
CATCH Heathy Habits at Rollins was established in response to the rising rate of childhood obesity in the United States.  Central Florida mirrors this epidemic as the 2013 Professional Research Consultants Child & Adolescent Health Needs Assessment conducted on behalf of Nemours Children's Hospital in Orlando found that 26.7 percent of children ages 5 – 17 in Orange County, Florida are overweight or obese.
Adults are not immune to the obesity epidemic.  According to the Healthy Central Florida study, The State of Our Health 2015, 26 percent of adults (age 18 and older) in the study's targeted communities of Winter Park, Maitland, and Eatonville, are obese. At the same time, there are 79 million baby boomers in the United States today who have the capacity to serve as valuable resources to help alleviate the obesity epidemic through volunteerism. In Winter Park there are an estimated 9,361 adults age 55 and over and many have the time, capacity, and resources to serve as volunteers.
According to the US Department of Health and Human Services Healthy People 2020, children and adolescents who are overweight or obese are at increased risk for developing diabetes and heart disease. They are likely to stay overweight or obese into adulthood, placing them at increased risk for serious chronic diseases. The CATCH Healthy Habits program and its team of older adult volunteers is making a very positive impact for both children and older adults on reducing this epidemic and lowering the risk of chronic diseases.
Adults 50 and older interested in volunteering or learning more about CATCH Healthy Habits may call (407) 646-2459 or email htanyhill@rollins.edu.




by







by