Rollins College Breaks Ground On Tiedtke Theatre & Dance Centre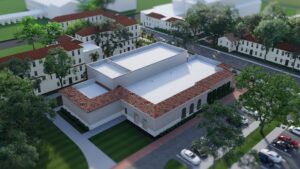 A new performing arts era began at Rollins College with the groundbreaking for a state-of-the-art 16,165-square-foot theater and dance center that includes the first custom-built black box theater on campus. The projected completion is in 2022.
"The theater project is critical to the educational excellence and rigor of one of our top-ranked academic programs," says President Grant Cornwell. "Generations of students will benefit from this investment."
The new Tiedtke Theatre & Dance Centre was made possible by a $5-million gift from Philip and Sigrid Tiedtke and generous support from Sally Albrecht '76, a composer who double-majored in theater and music at Rollins.
The Centre will be adjacent to the Annie Russell Theatre and just north of R. D. Keene Hall, home of the College's music department, anchoring a creative neighborhood of the arts on campus. The architectural firm Baker Barrios Architects, Inc., has designed the new space in harmony with Rollins' iconic Mediterranean campus architecture, and OHLA is the general contractor on the project. Topped with a red tile roof, the building will feature a fountain, arched doorways with classical columns, and a covered loggia walkway.
A 1,900-square-foot black box theater will host formal performances of up to 142 guests, integrating the latest in design, lighting, and sound systems. The dance space room will feature mirrors, barres, and special flooring. The center will also include a 2,400-square-foot costume design and technology lab, which will integrate a costume shop, fitting rooms, a draft room, and storage for the necessities of live productions such as props and set decorations.




by







by