Rollins College Honors Fred Rogers With New Sculpture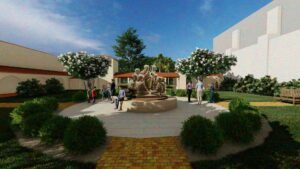 Rollins College recently unveiled the newly installed bronze sculpture "A Beautiful Day for a Neighbor" by artist Paul Day, honoring beloved alumnus Fred McFeely Rogers '51.
The 360-degree sculpture is located in the Chapel Garden courtyard next to the Annie Russell Theatre, behind the Virginia S. Nelson Rose Garden. Standing over seven feet tall and weighing more than 3,000 pounds, the sculpture depicts Rogers in his iconic sweater and sneakers, surrounded by children, hand puppets from "Mister Rogers' Neighborhood," lyrics from the series' theme song and the show's Neighborhood Trolley.
"This inspirational sculpture will be a permanent reminder of the ideals and values modeled by Mister Rogers as he set out to make the world a better place," said Rollins President Grant Cornwell. "This tribute will reinforce the quest for empathy, acceptance and kindness so needed in our society today."
Events taking place to celebrate the sculpture unveiling include:
The Mister Rogers Walking Tour. The sculpture is now the fifth stop on Rollins' Mister Rogers Walking Tour. This self-guided tour will be available 10 a.m. – 4 p.m. beginning on Friday, Oct. 29 and running through Nov. 23. Tour maps can be picked up at Olin Library, Stop 1 on the tour. Please wear a face mask when entering buildings on Rollins' campus.
"Artistic Vision and the Public Eye." At 4 p.m. on Friday, Oct. 29 the artist, the Gertrude Cole Scholar, Paul Day, and Rollins President Grant Cornwell will discuss "Artistic Vision and the Public Eye" in Tiedtke Concert Hall at the College. This free presentation is open to the public. Due to COVID-19 protocols, face masks are required, seating is limited to50% capacity and visitors will be asked to self-screen for symptoms prior to entry. Doors open at 3:30 p.m. for seating.
Event attendees can use the SunTrust Parking Garage across from campus or public parking.




by







by