Rollins Ranked Among the Nation's Best Colleges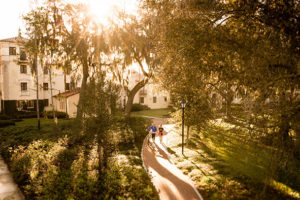 Rollins College has been ranked one of the top regional universities in the South in the annual rankings of "Best Colleges," released recently by U.S. News & World Report. 
Rollins was ranked second among the 105 colleges and universities in this category, which is composed of schools that provide a full range of undergraduate and master's-level programs. For 22 consecutive years, Rollins has been ranked among the top two regional universities in the South and first in Florida.
"We're proud to be at the top of the list year after year," said Grant Cornwell, Rollins president. "This is testament to a long legacy of commitment to our mission and our students."
Rollins continues to rank high among some of the most renowned universities in the country because of factors that include graduation and retention rates, assessment of excellence, faculty resources, student selectivity, financial resources, graduation rate performance, and alumni giving.
Additionally, Rollins' ranking can also be attributed to the college's pledge to small classes and engaged, personalized learning between students and faculty, which has been the hallmark of a Rollins education since the College's founding in 1885. That is why a majority of Rollins courses have fewer than 20 students. With 71 percent of courses fitting this criteria, Rollins ranks higher in this area than the other top 20 universities in the same category.
"There are many colleges and universities that take a liberal arts-style approach to education," Cornwell said, "but Rollins stands out for our innovative and engaging curriculum designed to educate students as global citizens and responsible leaders, equipped to pursue meaningful lives and productive careers."
The print edition of the "Best Colleges 2017" guidebook can be purchased online now or on newsstands October 4.
Recognition
Academic Programs to Look for: Service Learning
Recognizes: Universities where "volunteering in the community is an instructional strategy—and a requirement of a student's course work." 
Additional Rankings
Best Colleges for Veterans
Recognizes: "Top-ranked schools [that] offer benefits that can help [military veterans] make pursuing a college education more affordable."
Ranking: No. 2 
A Strong Commitment to Undergraduate Teaching
Recognizes: Colleges that "emphasize undergraduate education as opposed to the postgraduate research that is a priority at many universities."
Ranking: No. 4




by







by