Runners And Walkers Race To Support Local Military At AdventHealth Watermelon 5k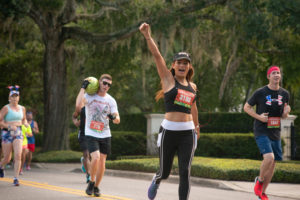 Runners, walkers and fitness enthusiasts of all ages will enjoy a patriotic celebration and summertime fun at the AdventHealth Watermelon 5k, Thursday, July 4 in Central Park in Downtown Winter Park. The 3.1-mile run/walk begins at 7:30 a.m. followed by a free kids' run at 8:45 a.m. It's an All-American-style celebration featuring a shady course, live music, ice-cold watermelon for all, free kids' run, and the crowd favorite, the 13th Annual Watermelon Eating Contest judged by Florida's Watermelon Queen.
"AdventHealth is happy to sponsor this 5k in support of our military veterans. AdventHealth employs large numbers of veterans in all areas of the organization, from doctors and nurses to chaplains to senior executives. The discipline, dedication and leadership shown by our veteran employees are invaluable in carrying out AdventHealth's mission," said Sharon Line-Clary, the vice president of marketing for AdventHealth.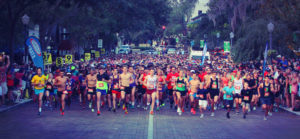 Participants can show support for local military personnel in the following ways:
Discount entry fee to active and retired military personnel and their families.  Invite a veteran!
Food Drive. Contribute non-perishable food items for distribution through the Orlando VA Medical Center's VSO Food Pantry.
Team Challenge.  Runners and walkers form teams of any kind: corporate, running club, ROTC, church group, running group, etc.  All teams receive recognition and the largest team will have a $500 donation made on their behalf to a local 501© (3) organization that supports military service. Last year's Team Challenge winner was Calvary.  Calvary designated the $500 donation to Homes For Our Troops, an organization whose mission is to build and donate specially adapted custom homesnationwide for severely injured post-9/11 Veterans, to enable them to rebuild their
All 5k registrants who are active or retired military service personnel and/or military family members will receive special recognition with a unique bib number and will be entered into a prize drawing to win a Military Appreciation Staycation! Staycation elements include a two-night stay at the Rosen Centre and $100 for the Everglades Restaurant located in the Rosen Centre.
Proceeds benefit the Track Shack Youth Foundation, a 501 ©(3) organization whose purpose is to promote lifelong health and fitness emphasizing youth and running programs in our Central Florida community.




by







by