Special Olympics Florida Celebrates Unified Sports Milestone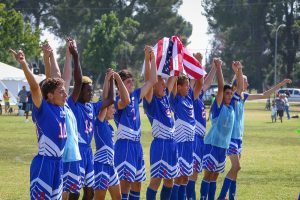 Special Olympics Florida is celebrating a significant milestone in Special Olympics' 50-year history. Thanks to the generous support of ESPN, the Department of Education, Kim Samuel and the Samuel Family Foundation, Lions Club International, and many others, Special Olympics surpassed its goal of registering 1 million Unified Sports participants, by registering 1.2 million participants, including athletes (individuals with intellectual disabilities) and teammates (individuals without intellectual disabilities) in Special Olympics Unified Sports.
Special Olympics Florida offers 11 Unified Sports teams including basketball, bocce, tennis, soccer, athletics (track and field), volleyball, golf, flag football, cheerleading, softball, and bowling.  Dedicated to promoting social inclusion through shared sports training and competition experiences, Unified Sports joins people with and without intellectual disabilities on the same team and playing field.  It was inspired by a simple principle: training together and playing together is a quick path to friendship and understanding. Special Olympics Florida currently has more than 12,000 participants registered.
In 2013, ESPN became the Global Presenting Sponsor of Special Olympics Unified Sports, and committed to help provide support and resources on the road to Special Olympics' goal of doubling the number of participants in inclusive sports.  At that time just over 500,000 global participants participated in Unified Sports. Thanks to recent growth and awareness, now over 600,000 Special Olympics athletes and over 650,000 of their teammates have registered to participate in Unified Sports globally
"Exceeding the goal of 1 million Unified participants globally is a tremendous accomplishment," said the Special Olympics Florida president and CEO, Sherry Wheelock. "We have witnessed the transformational power of Unified Sports for our athletes, schools, and communities here in Florida and will continue to grow Unified Sports across the state. Unified Sports is changing hearts and minds about stereotypes and judgements of people with intellectual disabilities through shared participation in sports competitions and relationship building."
Officially launched in 1989, Special Olympics Unified Sports has gained momentum over the last 27 years due in large part to multiple partners and supporters. In addition to the support from ESPN and others, Special Olympics Florida would like to thank local partners Publix Super Markets, the Walt Disney World Company, the Florida Department of Education, the Taft Foundation, Wells Fargo & Company, Universal Orlando Foundation, and the United States Tennis Association for their support.
Beau Doherty, president of Special Olympics Connecticut, known to many as the first person who introduced Unified Sports to the Special Olympics Movement, comments on the expansion and growth of playing unified. "When I look back to that one afternoon in 1984 talking with Mrs. Shriver (Special Olympics Founder) about taking a chance and bringing people without disabilities onto the same playing field as our athletes – I never thought in my lifetime, I would see us reach over a million people playing Unified Sports.  I'm literally blown away by the scale and success of our Unified Sports programming around the world.   True social inclusion – the connections that people make through participating in Unified Sports – is the end game. The day that I saw students in high school lettering on a Unified Sports team about 10 years ago made me feel that we were definitely moving down the path of true social inclusion."
As part of the celebration of surpassing the 1 million participant milestone, Special Olympics Florida is encouraging all who have been impacted by Unified Sports to share their story and thank those who have helped make the program possible. Fans and supporters are encouraged to use the hashtag #PlayUnified and share their stories from across the world. To read some of the inspiring stories from athletes and partners playing unified, visit www.playunified.org.




by







by