Spring Is Here!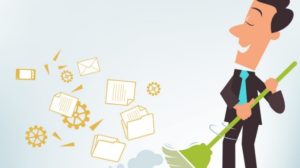 Protection And Service – By The Winter Park Police Department
Time for that annual chore associated with this time of year.  No, not the swapping of your winter shorts for your summer shorts, but the more arduous task of spring cleaning.  This year, we wanted to offer a few tips (other than using a strong allergy relief medicine) to possibly prevent you from becoming a victim of  crime.
This year, when cleaning out your old bank statements, make sure that you don't just discard them in the trash to be set out by the curb. Shred any item that has account numbers or personal information (to include Social Security numbers, dates of birth, Driver License numbers, and Medicaid/Medicare numbers).  As a reminder, if you closed a checking account and still have a check book or register with checks or deposit slips, make sure that those old checks and deposit slips are destroyed and the account number can no longer be deciphered, as crooks can still use that information to make you an unwitting victim of a crime.
Don't stop there, open up your wallet and take a look inside.  Are you carrying an excessive number of credit cards?  If so, you may want to remove those cards that you don't regularly use and place them some place secure.  For good measure, you should make a copy of both the front and back of each credit card you carry and keep it some place secure so if should lose or have your belongings stolen, you have a copy each card and the contact information immediately available so you can stop any illegal activity on your credit cards.  It should go without saying that you should never routinely carry your Social Security card or your passport for identification purposes.
Although most people dread the thought of spring cleaning, the momentary discomfort that you experience during the process pales in comparison to the massive headaches that will besiege you if you fall victim to identity theft so roll up those sleeves, take a decongestant and get to work!




by







by