Striving To Produce Environmentally Responsible Events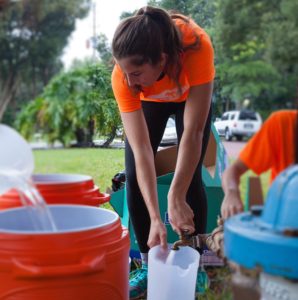 Track Shack and OUC- The Reliable One announced a plan to achieve green event certification for the 2016 OUC Orlando Half Marathon and Track Shack Lake Eola 5k. The certification process is applied for and verified by the Council for Responsible Sport (CRS), an Oregon based 501(c)(3) nonprofit that supports and certifies events that are working to improve their social and environmental, responsibility practices. The 40th running of the event is December 3, 2016.-
"We unite with OUC to produce this distinguished race as a celebration of fitness, human achievement, and community. Under the leadership of OUC and aligning with their Green Initiatives, we have the ability to conduct the OUC Orlando Half Marathon responsibly and minimize the event's impact on the environment," says Jon Hughes, race director and co-owner of Track Shack Events, the event producer.
"In four years or 40 years we envision this as a world class race for runners and walkers of all abilities that is working toward 100% waste diversion, an electric powered fleet and solar powered generators, easily accessible locally grown fruit provided for all, 100% paperless, and the material generated would be 100% recyclable and/or compostable." 
One of the key components of the event's sustainability plan is that the hometown utility OUC-The Reliable One has been supplying runners race day water from 10 hydrants along the 13.1 mile route since 1999. The five-point plan includes: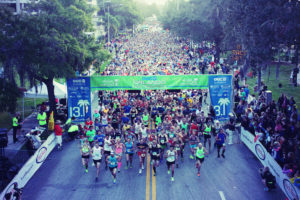 Waste Reduction
Online registration (71%) – eliminating over 4,500 pieces of paper
Volunteer waivers are electronic – eliminating 200 pieces of paper
Virtual Event Bag – with final race info, course map and deals – eliminating 75,000 pieces of paper.
Using OUC water from OUC hydrants – reduces 2,700 plastic gallon jugs.
Devising a system for waste diversion during all phases of the event including pre-race packet pick up, race day and post event.
Recycling
Recycling of plastic bottles, paper and cardboard through collaboration with City of Orlando
Receiving used running shoes at Track Shack and repurposing/redistributing locally
Sustainable Purchasing
Bamboo Shirts – Raw Threads shirts are made from bamboo, a sustainable resource.
Research compostable or recyclable cups
Other
Understand the sustainability policies of our sponsors, vendors, partners
Promote the use of public transportation and/or carpooling; offer bike valet parking, promote Orlando Bike Share for spectating.
Survey participants and sponsors post-race to gauge successes and shortcomings.
CALCULATE – Document baseline figures for future evaluation.
Upon achieving certification, the OUC Orlando Half Marathon and 5k will be the first CRS certified events in Florida. More information available at http://www.councilforresponsiblesport.org/.




by







by