Sweater Drive To Honor Legacy Of Fred Rogers Of "Mister Rogers' Neighborhood"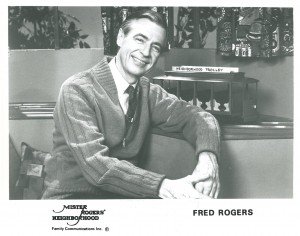 All Neighbors Invited to Donate Sweaters to Benefit Community 
In honor of what would have been Fred Rogers' 86th birthday on March 20, the Rollins College Child Development & Student Research Center (CDC)  will host a sweater drive that will benefit the Early Learning Coalition of Orange County and the Coalition for the Homeless. Over the years, the annual sweater drive has enabled the College to donate more than 1,000 sweaters to local charities.
Rogers, who was the producer and host of the well-known PBS show Mister Rogers' Neighborhood, graduated from Rollins in 1951 with a bachelor's degree in music composition before moving on to his television and communications career. He continues to inspire us all to be good neighbors.
New and gently used sweaters can be dropped off through March 20 at various locations at Rollins College or the Winter Park Library. Both adult and children's sizes are needed.
Sweater drop-off locations:
Rollins College: The Campus Center and Bookstore
Winter Park Library, 460 E. New England Ave., Winter Park, Fla.

 
"Mr. Rogers' messages are as meaningful to adults as they are to children, and remain as significant today as they were 40 years ago when Mister Rogers' Neighborhood first aired," said Rollins College President Lewis Duncan. "We invite the community to remember his zeal for service as we celebrate his legacy through this sweater drive."






by





by