The Mayflower Launches Major Expansion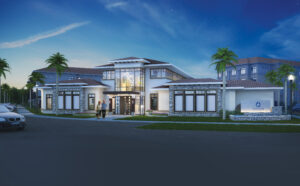 The Mayflower at Winter Park is launching the largest expansion in its history, with the addition of a brand-new neighborhood.
"We are building for the future," said CEO Steve Kramer. "We know that the next generation of our residents have different wants, needs, and expectations – and we want to capture their imaginations with a product that is transformative and cutting-edge. This project is the culmination of a carefully thought-out strategic plan for our community's growth – it's part of an ongoing investment in excellence." 
Bristol Landing at The Mayflower will comprise 47 two and three-bedroom waterview apartment residences; a 9,800-sq.-ft. club house/bistro; and an 84,842-sq.-ft. health center. The new neighborhood is being built on approximately 16 acres just to the west of the main Mayflower campus and will include trails, water features, and ample green space.
Residences will range in size from 1,423 to 2,036 square feet. Five different open-concept floor plans will be offered, each with eat-in kitchens with islands, walk-in closets, utility rooms, and either patios or walk-out balconies. All residences have been designed with open-plan living spaces, high ceilings, large windows and lots of natural light.
Serving as the gateway to the new neighborhood, the club house/bistro features an open-kitchen concept, lounge area and bar, game room with billiards, video room, and al fresco dining on a waterfront deck.
Designed around a "household" model, the four-story Care Center will incorporate a 24-unit memory support operation, as well as a 60-bed skilled nursing and rehab center with all-private rooms.
The community's long-range plan also calls for renovating the existing skilled nursing area on campus to accommodate 21 larger one-bedroom traditional assisted living apartments.
Site work on the expansion is already in progress and is expected to be completed by year-end. Construction is slated to begin in early 2020. Brasfield & Gorrie will provide general contracting and construction management services. The estimated cost of the project is $105 million.




by







by