The Mayflower's Health Center Achieves Top Rating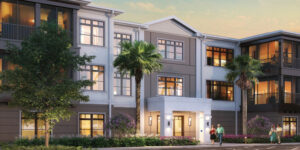 According to the 10th annual U.S. News & World Report's annual ranking of Best Nursing Homes, The Mayflower Health Center was named as one of only six in the seven-county Central Florida region to achieve the top rating of High Performing Overall. The Mayflower earned a 5 out of 5 on the Overall rating and 3 out of 3 each for the Short-Term/Rehabilitation and Long-Term Care ratings.
"We are proud to have achieved the top scores in all three rating categories," said Steve Kramer, president & CEO of The Mayflower. "This speaks to the tremendous work being done by Millie Sorger, our director of health services, and the entire team in the Health Center to ensure that Medicare rehab patients and permanent residents are receiving the very best patient-centered care."
To prepare its report, U.S. News evaluated 15,000 skilled nursing facilities in the United States, 696 of which are located in Florida. The ratings are based on an extensive data set gathered by the Centers for Medicare & Medicaid, as well as individual indicators developed by U.S. News.






by





by