There's No Place Like Home!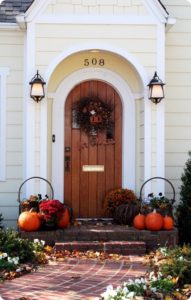 Editor's Message – By Tricia Cable
One of my favorite times during a vacation, or any travel for that matter, is the beauty of returning home.  No matter how fabulous the vacation destination is or how wonderful the people you have spent it with have been, the warm and fuzzy feeling of returning home after time away is simply the best.  Whether it is the comfort that you find in familiar surroundings, the loved ones that you may have missed, or the wagging tail that greets you at the door, there truly is, no place like home.
Home, to me, has always been a safe place.  A place where there is no judgment, where you are encouraged to be yourself, and there is no question too embarrassing to ask.  Home is also where mistakes are made and forgiveness is among our daily rations.  We talk openly about our shortcomings and put plans in place to right our wrongs.
Home is also where dreams are cultivated.  Where we, as a family, have encouraged each other to conquer that fear, overcome that weakness, and accept challenges with respect and determination.  Home is where "Whatever you think will happen, probably will" and "Just do it" will be heard multiple times a week and can either be referring to winning a game or making your bed…we don't discriminate!
There is a circle of trust and undeniable loyalty provided to me in our home that I have come to depend upon greatly through the years as I grow as a person, wife, and mother.
Home is a powerful place.  You feel confident and strong because of the support that you have come to depend on.  And while I consider my home the structure that surrounds and protects us, my children consider their home this community.  They have extended their comfort zone to stretch beyond the walls that contain our possessions to include not just family, but friends, neighbors, teachers, coaches, doctors and even a few servers at our favorite restaurants.  They have incorporated those they trust and places that they find comfort in, as home.
I have said it before and I will say it again, today more than ever, it takes a village.  I guess my girls have taken that statement that I make quite regularly to heart, extending their reach past our 1960s Florida ranch and into the aisles at Publix, on the clay at the ball fields, and throughout the shady oak-lined streets of our city.
Home is where your heart is.  So whether you are like me and consider that a fairly small place or you are like my children and have knocked down a few walls to increase your square footage, there truly is, no place like home!






by





by