Welcome 2020!
Experience Matters In Real Estate- By Kelly Price
It's hard to believe that we have entered a new decade. Over the past few years I've seen a dynamic shift in the real estate industry. Digital marketing, social media, iBuyers, YouTube – the real estate market has become a vast technological sphere of influence, and with all these changes and advances, I'm left wondering what the what the future for residential real estate holds.
Thirty years ago, when I began my career in real estate right here in Winter Park, the rules of the trade were very different. We didn't have the Multiple Listing Service (MLS), Zillow or Realtor.com, and buyers didn't have access to the internet to search for properties in every zip code. Instead, the Board of Realtors would drop off a book every week to my brokerage office and I would turn the pages to find the newest listings and monitor the sale trends for my clients.
It's safe to say that times have changed. As we enter a new year, I am optimistic that growth and change will continue to have a positive impact on our local real estate market. In 2019 we saw Millennials – the largest group of buyers in U.S. history – embrace homeownership and take advantage of the very low, very attractive interest rates. Their passion for technology has fueled the digital enhancements we've seen in real estate; virtual staging, 3-D imaging and walk-thru capabilities. While I admire and appreciate the technology they've encouraged our industry to embrace, I also extend to them a minor caution: don't let technology make decisions for you. Walk-thru videos and 3-D floorplans are cool, but they can't replace the feeling of walking through a home and personalizing and envisioning it as your own. If you're looking to buy a home, visit an open house or two, schedule a private showing with your agent, and tour the home(s) you're interested in. Buying a home is more than a financial responsibility, it's your opportunity to create a future, a nest, and a home that is personalized to you.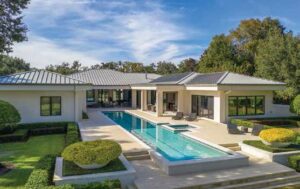 No one can ever truly predict what the future holds, but as I look forward into 2020, I see nothing but great things to come our way. We are starting off the year with a healthy market, great interest rates, and Central Florida continues to be one of the nation's fastest growing communities.
Wishing you and your family a happy and blessed new year. May 2020 bring you happiness and success!
Kelly Price
Kelly Price launched her real estate career in 1989 with an established Winter Park real estate firm and over the next 12 years was one of the firm's top performers. In 2002 she was bitten by the entrepreneurial bug and started Kelly Price & Company.  Starting with just herself and two other associates, Kelly Price & Company has grown to more than 40 sales agents and it has posted more than one billion in property sales.  Kelly was born in Memphis, went to school at Winter Park High, and received her MBA at Rollins College.




by







by