WFTV's Racquel Asa Wins Seventh Annual Dance Competition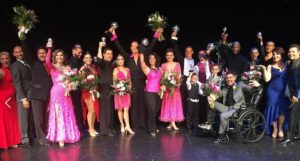 Racquel Asa and her partner danced their way to victory and helped raise $205,000 in this year's "Dance, Dream & Inspire" competition.
The annual gala was held at Hard Rock Live on Feb. 9 and featured six local celebrities performing ballroom dances ranging from the waltz to the Argentinian tango with professional dance partners. Racquel Asa, WFTV anchor/reporter, and Shawn Swaithes dazzled the judges and audience with a high-energy disco number. Randy Lowe, founder of Lowe and Behold, and his partner Marta Lyszkowicz earned the title of Most Popular Couple by raising nearly $6,200 worth of votes for this award.
The competition is a fundraiser for Embrace Families, formerly known as Community Based Care of Central Florida, the tri-county area's leading nonprofit organization overseeing foster care, adoption and other services for childhood victims of abuse, neglect and abandonment.
"The community support for 'Dance, Dream & Inspire' continues to grow, and we're tremendously grateful for another successful year," said Glen Casel, president and CEO of Embrace Families. "Money raised through this event allows us to help stabilize struggling families on the verge of abuse and neglect, and provide children and teens in foster care with the support system they need, just as their peers would receive in a traditional family."
During each year's event, Embrace Families recognizes an individual or organization who has selflessly and generously supported efforts that serve vulnerable children and families in the Central Florida community. This year's Inspiration Award was presented to the Reed Automotive Group for their commitment to ensuring that children who enter the dependency system have the same opportunity to succeed as their peers. The highest-profile example of their commitment is the "Cars for Kids" initiative, which awards new cars to deserving teenagers transitioning into adulthood from foster care.
Other local celebrity dancers included:
Roseann Harrington, chief of staff for Orange County Mayor Jerry Demings
Estee Martin, radio host, Cox Media Group
Paul Roldan, CEO, Allgen Financial Advisors, Inc.
Tony Jenkins, market president for Central Florida, Florida Blue




by







by