What A Year
Mayor's Message – DECEMBER 2020
Safe to say that 2020 has been a year unlike any other, including even our personal interactions.  The normal handshake or hug has turned into fist bumps and elbow taps. Our smiles are now only seen through the expression of our eyes. Speaking from a podium wearing a mask, to an audience of attendees "masked-up," is quite an experience. COVID-19 has challenged us and COVID-19 has changed us. But COVID-19 has also proved our resilience and exposed our compassion for one another.
In March, as we all started learning about the virus, the city took its first steps in response to the pandemic to ensure the safety of our residents and guests. We canceled large events and programs, closed City Hall, city facilities, playgrounds, gyms, and parks. All public meetings went from in-person to virtual and we all learned how to conduct city business by talking to one another in small squares on our computer screens.
As the virus took hold of our normal lives and we were learning more about how easily COVID-19 is transmitted, the city began creating non-traditional ways to offer safe programming and services. The development of online classes and payment processes, implementing free Wi-Fi in Central Park, moving the Saturday Farmers' Market to Central Park West Meadow to allow for vendors and patrons to safely space out, and encouraging outdoor activities at our parks, were all safe ways to feel normal and escape the pandemic paralysis.
In April, in efforts to assist the physical and financial needs of our community, the City Commission and Community Redevelopment Agency (CRA) Board approved $1.9 million of funds to help during this unprecedented COVID-19 crisis. These funds helped pay utility bills, we reduced our electric fuel rates, and we offered free meals via partnerships with Second Harvest Food Bank and Feed the Need Florida.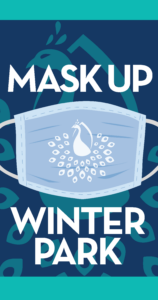 As the state began to slowly reopen, so did we. Our resilience continued to surface. In May we held our first socially-distant shopping & dining experience when we closed the roads to allow for restaurants and businesses to expand their space to the outdoors. June saw the start of the reopening of City Hall and other city facilities.
In August, the CRA approved $500k to support economic recovery efforts and shortly thereafter, the Winter Park Chamber of Commerce created an Economic Recovery Task Force. The city joined the chamber and 10 other organizations with the mission to rank and vet mitigation strategies to promote the city's economic recovery.
From this effort the city has created and implemented many safe events such as Movies in the Park, Music in the Parks, musical outdoor concerts, sidewalk sales, and monthly road closures to allow for socially-distant shopping and dining.
Winter Park is a strong city filled with residents and businesses that come together during times of need. Thank you to all of our stakeholders and especially our city staff, for your commitment and resilience. I wish you all continued good health as we continue through the holiday season.
Sincerely,
Mayor Steve Leary






by





by