What's It All About?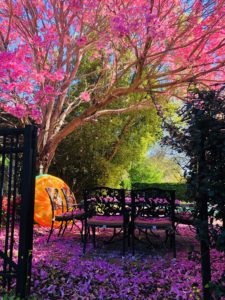 Editor's Message – By Tricia Cable
How many times a day do you question your purpose?  In my youth, and by youth, I mean anything south of thirty, the answer to that question was- rarely, if ever.  I wouldn't say I was selfish, or unaware, I just had so much I wanted to do and seemed to always be going incredibly fast; not taking much time to ponder the meaning of my existence.
And apparently, I think pretty highly of myself because when I did start to seriously consider my purpose, I thought that the universe was counting on me to cure cancer or prevent global warming.  It never occurred to me in my thirties, or even my forties, that we weren't all here for some grand occurrence intended to right the wrongs of all previous generations.  Additionally, I just naively assumed that without much thought or input, we all at some point in time before our last good night, would completely and undoubtable understand the part that we had played in some master plan.
Now, smack dab in the middle of my fifties, I have collected enough wisdom along the way to know that if there is a master plan, there have been several re-writes along the way.  The ship may have sailed for me on gold medal athlete or academy award-winning actress, but the fat lady isn't even warming up yet.  I am no more ready to hang up my cleats than my 16-year-old daughter.  Sure, the landscape has changed and I am less likely to enroll in medical school than, let's say, the Stanford grad down the street, but I still feel like I have so much more to give and have yet to determine, exactly, why I think I am here.
I have matured enough to realize that my purpose could be as simple as paying the tab for the young mother with three children struggling to make ends meet.  Or, rescuing a lost dog from traffic out of the middle of the street and reuniting him with his panicked owners.  Or, helping an old man get his favorite rice off the top shelf at the grocery store.  Or, taking the time to talk to a child about their day.  The problem is, we equate our purpose to goal-based achievements.  No higher power is interested in our achievements, just our heart.  When we choose to act out of kindness, compassion and love, we are aligning with our true purpose.
Nothing good ever comes from mean and nasty.  The feeling of complete joy that comes from helping another human being, if it could be bottled, would cure the world.  It's spring, the flowers are blooming and the trees all have bright green new growth.  I say we take a hint from nature, and kick off the new season with some personal growth of our own.  Lend a hand, share words of encouragement, and be the change you want to see in the world.






by





by