What's THAT In The Garden 3.0
In The Garden – By Stephen and Kristin Pategas
 During a stroll in a garden, you spot something unusual ­what is it? Is it an anomaly or from another planet? Scan the images to see what we have discovered in our garden and others. To learn more, visit IFAS Extension – Solutions for Your Life at https://sfyl.ifas.ufl.edu/.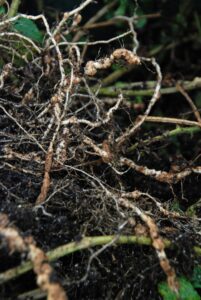 Nematode-infected tomato plant roots.
Many plants, including some vegetables are susceptible to harmful soil-borne nematodes. Some are microscopic worms that feed on the roots of plants. Some nematodes are beneficial and feed on bacteria, fungi, and other organisms. Their piercing mouthparts penetrate the root, and the resulting knots show the root damage which harms plant health. The infected tomato plant roots shown here caused the tomato to yellow, wilt, and decline. Solarization of vegetable beds over the summer raises soil temperature and can help decrease their numbers. For vegetables, use seeds and plants labeled nematode resistant. Soil tests to check for nematodes are available through the IFAS Orange County Extension Service.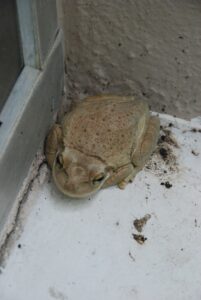 The invasive Cuban tree frog lying in wait.
Florida is overripe with invasive creatures. This Cuban tree frog (Osteopilus septentrionalis) is known for gobbling up native frogs. Bad dude! Removal is strongly suggested to further its spread. One recommended humane method of disposal is to seal it in a plastic bag and place it in a freezer until it is deceased.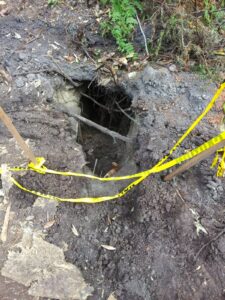 An uncharted septic tank can be a problem.
What dangers lurk underground? How about an abandoned septic tank? Fortunately, there is not a large piece of equipment like a Bobcat stuck in it. If you know or suspect there is one on your property (abandoned or functioning), share that with contractors.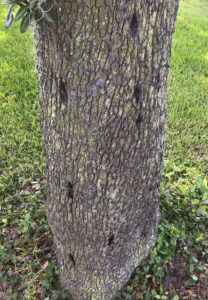 Damage to tree trunks create disease entry points.
No, this is not a strange tree disease. The damage was caused by a lazy or poorly trained person who improperly climbed the tree with tree spikes on their boots. Shame on them!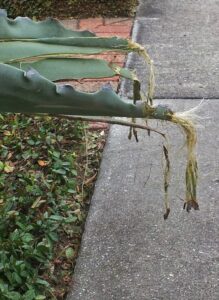 Proper maintenance would avoid this miscue.
The combination of a dwarf Asian jasmine underneath a low overhanging agave leaf along with an "asleep at the wheel" string trimmer operator led to this nightmare. The unsightly damaged leaf had to be trimmed back.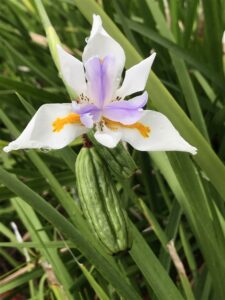 African iris exhibits flowers and seed pods at the same time.
The showy African iris (Dietes vegeta) blossoms last just one day, but new ones bloom on neighboring stalks. The faded flowers drop off and develop into textured seed pods. Sometimes the emerging seeds sprout if the soil is exposed. Trim off the seed heads (deadhead) but not the stalk to encourage more flowers and eliminate sprouts from the seeds.
Hortus Oasis (FL26000315) in Winter Park is a boutique garden design company specializing in residential, commercial and specialty gardens. Stephen is a registered landscape architect and Kristin is a certified landscape designer. Contact them at 407-622-4886/ garden@hortusoasis.com and visit www.houzz.com/pro/hortusoasis/__public.
 All photography by Stephen G. Pategas/Hortus Oasis unless otherwise noted




by







by