Where Does The Time Go?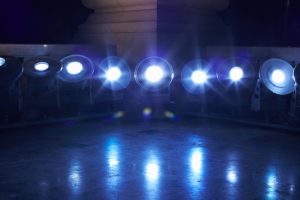 By Barbara Solomon 
THE BIG MEAL
WRITTEN BY DAN LEFRANC
DIRECTED BY MARK EDWARD SMITH
STARRING STEVEN LANE AND GINGER LEE McDERMOTT 
This play follows the lives and loves of a family over their lifetime.  It begins when Sam (Jeffrey Todd Parrott) and Nicki (Sarah French) meet at a restaurant where she is serving.  All of the action of the play takes place in various restaurants, signified by moving the tables and chairs around.  Despite Nicki's reluctance to get involved, they fall in love and get married.  Well, you can't get much more involved than that!  We next meet them when they have had two children; more involved yet.  Nicki has been replaced by Ginger Lee McDermott and Sam by Steven Lane.  The couple goes through the usual ups and downs of marriage and before you know it the kids are in college, then get married and have kids of their own.  Finally, they are grandparents, replaced on stage by Peter W. Galman and Shami J. McCormick.  We continue playing mysical chairs and characters till only Grandma remains on stage.
This play was extremely well acted and directed, which was not easy given the complexity of the script.  I thought that Steven and Ginger were outstanding.  They have great chemistry together; last time I saw them was "Dancing Lessons" at Orlando Shakes.  Ginger has the ability to go through a gamut of emotions believably.  Steven actually becomes his character, something every actor aspires to, but few achieve.  It is thrilling watching him perform.  The only fly in the meal was Trevor Simoneau playing the young boy.  He was horribly overacting–his ego seemed almost as big as Trump's.
I felt "The Big Meal" was a metaphor for life, with the "big meal" really the character's last meal on earth.  But this play was very realistic–I saw elements of my own life in the characters, their motivations, and their actions.  I am now the grandmother who adores her grandchildren, but I'm not ready for the last meal yet.  I'm having too much fun!
Barb's Best Bets for September:  "West Side Story" at Orlando Shakes, "1776" at The Mad Cow, and "Clybourne Park" at UCF.




by







by