Will You Be One Of Brogan's Heroes?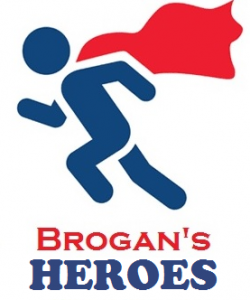 On November 4, 2015, a local family from Winter Park received devastating news… their four-year-old son, Brogan, was diagnosed with Acute Lymphoblastic Leukemia.  Within days of the diagnosis, Brogan and his mommy were living at the St. Jude's Children's Hospital in Memphis, Tennessee.  At the same time, Brogan's daddy was at home in Winter Park, alone, with Brogan's three other siblings (ages 8, 6 and 2). Brogan's daddy is self-employed but has been unable to work in over a month since the initial diagnosis.  The family is having to live apart for the most part for the next 4-6 months.   Daddy will have to be a single dad to three little kids who need him.
Brogan was attending Park Maitland School up until the diagnosis.  He has been undergoing intense chemo therapy in Tennessee.  It has taken its toll on his little body.  When the treatments began, he didn't smile or speak; he was in pain all the time. The chemo caused nerve damage and at times he couldn't even walk or use his hands.  Despite this toll on his body, within a few weeks Brogan will have to begin his third round of chemo treatments.
St. Jude Children's Research Hospital has been amazing and is paying for the treatment that Brogan is receiving.  However, the family has extensive bills from the first hospital, additional medical expenses, and many other upcoming costs over Brogan's three year leukemia treatment.
The Brogan's Heroes Fundraiser is being held April 16, 2016 at the Winter Park Community Center Ballroom.  The entire Park Maitland school is being invited (600 families).   The Fundraising Committee is asking for help from the community in the form of donations for a silent auction to be held during the evening fundraiser, with all funds raised going to Brogan's family to assist with the enormous costs they are facing from this devastating diagnosis.
The Committee thanks you for your generous donation and for being one of Brogan's Heroes.
For more information, please feel free to contact to the committee chair, Abigail Hegarty, at [email protected].




by







by