Winter Park Country Club To Celebrate 100th Anniversary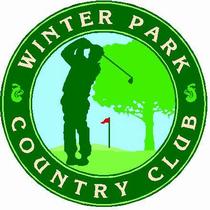 The Parks & Recreation Department and Winter Park Country Club (WPCC) 100th Anniversary Committee invite the community to the kick-off event for its Centennial Celebration of the Country Club Tuesday, September 16, from 7 to 9 a.m. The year-long celebration will begin with the unveiling of a centennial clock, located next to the putting green, which has been graciously donated by the Elizabeth Morse Genius Foundation. The event, which will include remarks from Mayor Ken Bradley, Florida Secretary of State Ken Detzner, First Tee Director Thomas J. Lawrence, and local patrons of the course, will be broadcast live by the Golf Channel on their Morning Drive show. At 10:30 a.m., following the Morning Drive live broadcast, Secretary Detzner will announce the Florida Historic Golf Trail Program, presented by the Florida Department of State, with WPCC as the featured course.
The Winter Park Country Club was formed in 1914 and that fall a nine-hole golf course was opened at the north end of town. The course went through a series of changes in its first 25 years of existence, but today the WPCC is a thriving nine-hole course open to the public. More than 24,000 golfers annually play a round on the second oldest golf club in central Florida. They are drawn to the family-friendly course for its picturesque surroundings, challenging fairways, exciting camps, and variety of programs for professional and amateur players alike.
Limited event parking will be available in surrounding lots including Casa Feliz, Christian Science Church, First Baptist Church and The University Club. In addition, the Pedestrian & Bicycle Advisory Board will be providing a free bike valet service for those who ride their bike to the event. The bike valet will be available from 7 to 11 a.m. just northeast of the clubhouse at Webster and Old England avenues.
The city has launched a WPCC Centennial button on the home page of its official website at cityofwinterpark.org. This will highlight all of the Centennial Celebration events, as well as provide historic resources and pertinent information associated with this milestone.
For more information regarding the Florida Historic Golf Trail, please visit floridahistoricgolftrail.com.
For more information regarding the City of Winter Park, please visit the city's official website cityofwinterpark.org.






by





by