Winter Park Library & Events Center – Topping Out Ceremony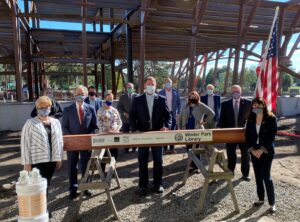 Mayor Leary – January 2021
In the last quarter of 2020, we celebrated the Topping Out Ceremony of the Winter Park Library & Events Center. This is a traditional ceremony that involves the signing and hoisting of a steel beam. It celebrates the construction process reaching the milestone of completing the skeleton of the building. The steel beam is symbolic of the uppermost steel piece going into place and the structure has reached its height. Attending physically and some virtually, were our partners, supporters, and staff who are all working together to build our future.
This project stands for so much more than just a couple of buildings, it is more than just a library and events center. It is not another block, stucco, or barrel-tile roof building. We talk about Winter Park being a city of arts and culture.  This project demonstrates our commitment to excellence in art, culture, and design.

Our new Library & Events Center will challenge talented design men and women to push clients beyond the cookie cutter.  It will be an architectural beacon well beyond our borders. This project demonstrates leadership.  An investment in our community.  We've worked with great partners to build through incredibly challenging times.  A pandemic.  Economic uncertainty. To create and manage a safe, secure environment for workers.  To build what will be an economic engine. The completion of which will ignite further investment and opportunity in our community.
Beyond design, this is going to be a functional place.  Yes, a place to check out a book and to log on.  But look around you.  Remember these places. I can remember when my children were younger and they used to sit in awe and listen during story-time at the library. This is the place where dreams are created.
Businesses have changed and people are working differently than just a few years ago. Careers and businesses will be launched here. This will be a gathering place and relationships will be strengthened here. Vows will be celebrated here.
Across this campus there will be activity. Bodies, minds, and souls will be nourished here. We all need a place like this. We all deserve a place like this. A place that demonstrates a commitment to art, culture, design. A place that demonstrates leadership to invest in community especially through uncertain times. A place that demonstrates commitment to the future. I'm honored to be associated with this project. As always, I'm honored every day to represent Winter Park.
Thank you to our residents, Mayor Jerry Demings, and Orange County. Thank you to our donors: the Edyth Bush Foundation, AdventHealth, and the Holms family. Thank you to everyone who has stepped up during some adverse times to invest in this incredible site, in our future, and when completed will be the global standard for similar projects. You are the people who make Winter Park this special place.
I look forward to celebrating more milestones, especially our Grand Opening in the fall of 2021.
Sincerely,
Mayor Steve Leary




by







by