Winter Park's 12U Babe Ruth Team Advances To Regionals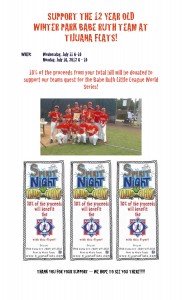 After winning the State Championship, the Winter Park Babe Ruth 12U team is headed to Regionals in Live Oak, FL. If you are planning on taking the family to Tijuana Flats this week, please make it tonight and bring a copy of this flyer with you to help them raise some money to offset the cost of their trip.
We are very proud of this team and wish them continued success as they represent the league and the City!
Go Winter Park!!






by





by