Baby Supplies Needed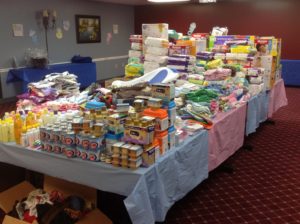 Nearly 30 percent of new families in Central Florida have been forced to cut back on food, childcare and utilities in order to afford enough diapers to change their newborns on a regular basis.
In an effort to relieve the financial stress these new families face, Heart of Florida United Way is hosting its 6th annual "Basics for Babies" supply drive benefiting at-risk families and infants in Orange, Osceola and Seminole counties.
Individuals and companies can participate by hosting collection drives or donating the following items:
Diapers
Wipes
Formula
New infant apparel (0-24 months)
New blankets
As part of the organization's focus on healthy children and families, United Way will collect, assemble and deliver care packages to families in need through partner agencies such as the UCP of Central Florida, Help Now of Osceola, Rescue Outreach Mission of Central Florida, Safehouse of Seminole and the Bithlo Transformation Effort.
Donations can be dropped off at United Way from Nov. 28 – Dec. 2 located at 1940 Traylor Blvd.Orlando, Fla. 32804. 
Please visit hfuw.org/BasicsForBabies for more information.






by





by