Flintstone's Or Jetsons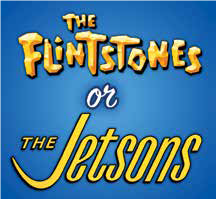 Family Business Perspective – By Jeff Bannon
Think back to 2006. Think specifically about how technology has influenced our everyday lives. Do you remember what the business environment was like?
In the last 10 years we have grown used to having immediate access to information, and absorbing everything digitally in the moment. But when you look at the timeline of technological advances, it is shocking to realize that it has only been nine years, (yes, I said nine!), since the iPhone was released, revolutionizing the way we interact and find information. Even more of a shocker is that it was not until 2010 (only SIX years ago) that Apple released their first iPad, moving consumers from digital readers to full functioning tablets.  Now think, how prevalent are phones and tablets in our daily business and personal lives now?  How have these devices changed the way you and your team conduct business?  How does it impact the way your customers find and interact with you?
So you may be thinking, what the heck does all of this have to do with succession planning? It's pretty simple, the speed of communication, absorption of data, access to information and the ability to share, all influence the sustainability of your business. Are you taking time to step away from the daily grind to think strategically about how your business is impacted by technology advancements? How your business is impacted by economic, political and generational changes?
If you have had any exposure to the strategic planning process, a critical step is walking through the SWOT Analysis – Strengths, Weakness, Opportunities, and Threats.  Often times there is a substantial amount of time spent working through how to leverage strengths and overcome weaknesses, while opportunities and threats are brushed over with less strategic thought or follow through.
Strengths and weaknesses are real, we can feel and measure them, but since opportunities and threats consider how outside influences impact your business, the discussion generally feels lofty and hypothetical. However, more than ever, we are in an age of constant change, and if someone can dream it, it will likely happen, and faster than you expected.
Confirming mission, vision, and core values are also tried and true concepts of strategic planning.  If you drive these philosophies throughout your organization, they shape culture, and give your people direction to focus on the right things critical to the success of your business. Defining your mission and vision also creates clarity towards the business you are in – keeping you focused on what is important no matter the outside influences.  Whatever you identify as your vision and mission, you can then better determine how you want to approach opportunities and threats impacting your organization.
Jeff Bannon is a partner of The Rawls Group which has helped business owners with their succession planning since 1973. Well-respected in his field, Jeff is a highly requested speaker and has published numerous articles on this subject.






by





by