Cool Zoo Brings Animals Encounter To Kissimmee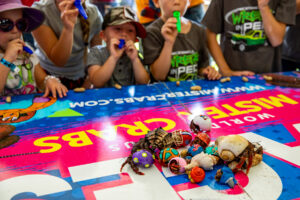 Cool Zoo, an interactive and educational wildlife travel exhibit, featuring hands-on encounters with exotic animals, will be headlining this weekend's Repticon exhibition. The event will take place on September 25 and September 26 at Osceola Heritage Park.
Headlining the Cool Zoo exhibit is The Hermit Crab Adoption Center by Mister Crabs.  The educational experience is free for all Repticon attendees and includes the opportunity to observe and touch hermit crabs from around the globe. Guests will have the option to adopt rescued hermit crabs as well as purchase travel companion kits, shells, hermit crab food and accessories.
Repticon, hosting reptile and exotic animal expos throughout the United States, is coming to Kissimmee with a mixture of vendors and breeders. This family-oriented event offers guests the opportunity to learn about animals not normally seen in local pet stores. Breeder-vendors are always willing to teach in their field of herpetology. Tickets are sold online and are $10 for adults, $5 for children from ages 5-12 and children under age 4 are admitted free.
Cool Zoo is a family-owned-and-operated traveling wildlife encounter experience with the mission of curating hands-on conservation, education, recreation and research for all to enjoy. Cool Zoo appears at hundreds of events annually to include fairs, festivals, conventions, carnivals, museums, schools, sporting events, state parks and corporate events and offers a multitude of experiences such as hermit crab adoptions, crab races, butterfly encounters, exotic bird shows, giant tortoise encounters, sloth encounters, and gem mining. To learn more about Cool Zoo's educational offerings and conservation efforts visit: http://coolzoo.org/




by







by